It's finally here! The program that you have been waiting for! H.I.T. stands for High Intensity Training, and if you participate that's exactly what you will get! This program is designed to take you to Apprentice Instructor skill level faster than you ever thought possible! You need a training partner to participate in the program with you (absolute necessity). The two of you will train directly with Sifu Lamar M. Davis II. You will split the cost with your training partner, unless you have made other arrangements with them. If you do not have or cannot find a training partner, let Sifu Davis know and he will make an effort to find a partner for you that is interested in the same dates!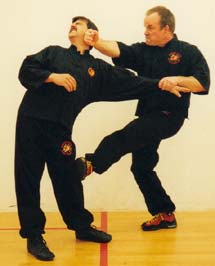 This program is definitely not for those who are casual about their learning experience! It is for those who want to go and get it with a vengeance! You can choose to train for one day, two days or for an entire week! The one day session involves six hours of training. The two day session involves ten hours total training time. The week long session involves some hours on the weekend and t remainder of the hours divided among the weekdays, and also includes participation in all group classes that Sifu Davis has available during your visit. This program is only available to Hardcore Jeet Kune Do Chinese Gung Fu Association members!
At the completion of your H.I.T. session, you and your partner will receive a certificate which reflects the results of your training! If you come prepared and work hard, it is possible to achieve Apprentice Instructor Level I status after a two day session! You will also receive an outline of the material that is covered in your H.I.T. session, so that you can use it for constant reference in the future! You can choose the topics for your H.I.T. session, or you can let Sifu Davis custom design a program based on you and your partner's individual needs and your personal rate of progression.
You will drive or fly to Birmingham, Alabama where you will stay during your training with Sifu Davis. If you fly in, Sifu Davis will personally pick you up at the airport and take you to your place of lodging. During your stay, you will train, eat and hang out with Sifu Davis. Training will be in his private training facility, which is fantastically equipped! You will have many hours to discuss Hardcore Jeet Kune Do, your goals, your future training and anything else with Sifu Davis! It will be an experience that you will always remember! This training is not cheap, but the results are well worth the money! Give it a try and find out! To get things set up for your H.I.T. session, follow the directions below.
TO MAKE ARRANGEMENTS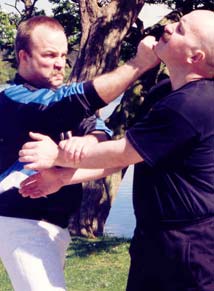 Contact Sifu Lamar M. Davis II by way of e-mail, telephone or by writing to the address below. Request your specific date or dates that you and your training partner wish to schedule your H.I.T. session. Please have several dates in mind, as Sifu Davis is very busy and often does not have openings in his schedule! Choose a one day, two day or one week session (only two trainees allowed at one time). Bringing a training partner allows you to split your training fee in half, and also you will have someone to work with in the future who has experienced the same training! It is recommended that you discuss your plans with Sifu Davis at least one month ahead of your intended session, and two to three months advance notice is even better! This increases your chance of getting the dates that you want!
Sifu Lamar M. Davis II
Hardcore Jeet Kune Do Chinese Gung Fu Association
324 1st Avenue East, Suite #06
Oneonta, Alabama 35121
Phone: (205) 467-9039
E-Mail: Sifu@HardcoreJKD.com
Sifu@HardcoreJKD.com
FEES FOR TRAINING
One Day H.I.T. Session (six hours) - $600.00
Two Day H.I.T. Session (ten hours) - $1,000.00
One Week H.I.T. Session (twenty+ hours) - $2,000.00
NOTICE! All those participating in this program are responsible for transportation to and from Birmingham, lodging and meals during your stay. The fee covers training and related materials only! Sifu Davis will provide your transportation if necessary after arrival.
PAYMENT ARRANGEMENTS
One-half of the fee for training is due in advance. This secures the date or dates that you have requested. If you prefer, you may pay the entire fee in advance! Please keep in mind that once you have reserved the date and paid your fee, the money is non-refundable and you are expected to show up for training! All advance payment is to be made in the form of a U.S. Postal money order or International Postal money order (foreign countries). Only POSTAL money orders are accepted. The money order should be made payable only to: Lamar Davis. The remainder of the fee for training is due immediately upon your arrival and is to be paid in CASH ONLY! Send advance payment to the address listed above. You may also pay through Paypal if you like. If you do not have a Paypal account, opening one is fast, easy and free! Go to https://www.paypal.com and register for an account. This account will enable you to pay anyone with a Paypal account using your bank account or credit card. Payments are to be made directly to Sifu Davis' account, which is Sifu@HardcoreJKD.com .

FOR TRAINING YOU WILL NEED TO BRING
· Loose, comfortable clothing (no shorts allowed).
· Plenty of Deodorant (I'm not kidding).
· Good Training Shoes (Nike Cross Trainers, Otomix, etc.)
· 16 oz. Boxing Gloves
· Revgear Shin Guards
· Full Coverage Headgear
· Groin Protection
· Any other protective gear you desire is optional!
IF YOU'RE READY TO TRAIN HARD, H.I.T. WANTS YOU!