About The Instructor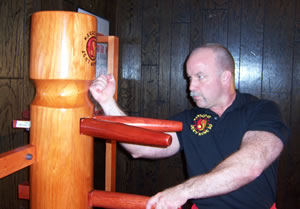 The Head Instructor of the Hardcore Jeet Kune Do Academy is Sifu Lamar M. Davis II. Sifu Davis has been a practicing martial artist since 1967. His training in Wing Chun Gung Fu and Jeet Kune Do began around 1977. He has been training ever since, having achieved Full Instructor certification directly from no less than five of the Jeet Kune Do founder's original students. This makes him one of the most highly ranked Jeet Kune Do instructors in the entire world!
Sifu Davis is the founder of the Hardcore Jeet Kune Do approach to training. Hardcore Jeet Kune Do is a reality-based, real world self defense method. We do not believe in the use of martial art for sport, competition or recreation, but purely for self defense application. Sifu Davis is one of the premier reality based self defense instructors in the world, and is close friends with many world renowned instructors such as Dynamic Combat founder Richard Ryan, as well as many other Second Generation Jeet Kune Do instructors such as Tim Tackett and Bill Holland.
Sifu Davis is the Senior Instructor/Executive Director of the Hardcore Jeet Kune Do Chinese Gung Fu Association. This organization is dedicated to developing instructors worldwide, and has members scattered all around the world. If you are interested in one day becoming an instructor of Hardcore Jeet Kune Do, please see the Organization section of our website. There you will find all of the details about becoming a member.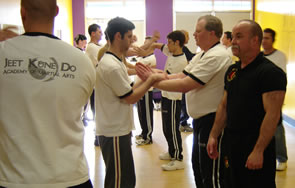 Sifu Davis is the author of over one hundred published magazine articles worldwide and five books on Jeet Kune Do (one published and four to be published in the near future), and has over forty instructional DVDs in release worldwide. A very prolific author, he is always working on various writing projects to further educate the world on all aspects of Jeet Kune Do. He is also the Founder and Editor of Hardcore Jeet Kune Do magazine, which is currently on hold, but will be making a comeback in the very near future!
He has been inducted into the World Martial Arts Hall of Fame twice, Martial Arts Living Legends Hall of Fame and the Universal Martial Arts Hall of Fame. Sifu Davis is available for private instruction, semi-private instruction, group instruction, H.I.T. sessions and seminars worldwide. You can get your training started today by emailing Sifu@HardcoreJKD.com.