The Hardcore Jeet Kune Do Private Martial Arts Training Academy is one of the few places in the entire world where you can train in the non-classical gung fu and Jeet Kune Do just as it was developed, practiced and taught by it's founder. The art went through several distinct phases. Some say three, but we prefer to say four. There is Hong Kong (Wing Chun Gung Fu), Seattle (Non-Classical Gung Fu), Oakland (transition from Non-Classical Gung Fu to Jeet Kune Do) and Los Angeles Chinatown (Jeet Kune Do).
Hardcore Jeet Kune Do is the unique approach to training in all four of these phases, developed by Sifu Lamar M. Davis II. The program at the Hardcore Jeet Kune Do Academy is the most in-depth available on all aspects of original Jeet Kune Do training. Students are taught the basics (stance, footwork, centerline preservation, visual focus principles, defensive skills, hand techniques, kicking, etc.), drills for developing the necessary attributes (Sil Lim Tao form, sticking and trapping hands, mook jong training, lin sil die dar, focus gloves, etc.) and compound application of the techniques (Five Ways of Attack), all with the mindset of strict self defense for the streets of today. In other words, REAL WORLD application of the skills developed! Nothing is held back, and as long as someone wants to attend classes, there will be something there for them to learn!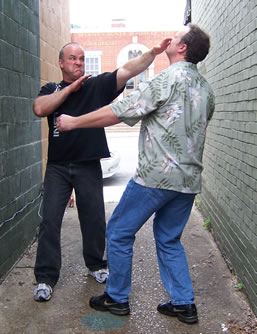 Sifu Davis and his elite team of senior students will guide you through every phase of your training, making sure that you learn this art the right way! At Hardcore Jeet Kune Do, we believe that Jeet Kune Do is more than just kickboxing with the power side forward and a finger jab here and there! It is the ULTIMATE system of scientific hand-to-hand combat!
Enrollment at the Hardcore Jeet Kune Do Academy is somewhat limited, as we don't want to get so many students that we cannot devote the necessary time to seeing that each student learns this art the right way! Do not be surprised if you are asked to be put on a waiting list when you call to inquire about membership! We are not a "belt factory", turning out black belts left and right to keep the bills paid and the doors open! We aim for quality, not quantity!
We are a private club, but we do not discriminate in any way against anyone of any race. The reason we are a private club is so that access to the classes is controlled and we keep out those with improper motives for wanting to learn. Sifu Davis believes that a martial artist should have strong moral standards and the maturity and mentality to learn this art without ever abusing the knowledge learned. Also, we do not believe in the use of martial art as sport, and there is no sport/competition aspect whatsoever in our training! Just the development of good, solid self defense skill … no more, no less! If your goal is to learn this art so people will think that you are a "tough guy" or so you can abuse the skills being taught, may we suggest that you find another place to train!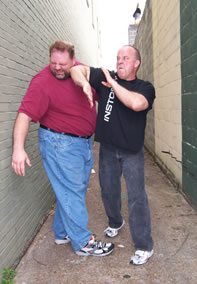 After reading this information, if you are still interested in applying for membership, Sifu Davis would love to meet with you and discuss your personal goals and the possibilities for training. You will first fill out an application form. If accepted, payment of initial fees and first month's dues will be expected IN CASH or through Paypal ( https://www.paypal.com ) to the Paypal account ID Sifu@HardcoreJKD.com before training is to begin. Once accepted as a member, you will be expected to observe and obey all rules and regulations, to maintain good hygiene and personal appearance, and to pay your monthly dues on time! You are representing an honorable legacy, and should act and appear accordingly! We look forward to hearing from you soon!